Wagner - Verdi goes VJ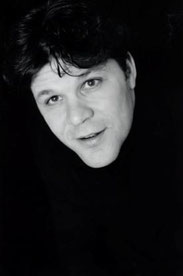 Anton Klotzner - heldentenor

In 2013 were commemorated two main figures from the 19th century: Giuseppe Verdi and Richard Wagner.
Britt Truyts, the belgian soprano and Anton Klotzner, italian tenor, drag us throug opera arias like Traviata, Rigoletto, Otello, Lohengrin, Tannhauser, Meistersinger, Siegfried.
Stefan Van Puymbroeck did arrangements and transcriptions for clarinet, flute, strings, piano, harmonium and accordeon.
Wtih her images, VJ Maja Jantar takes the audience into  her  fascinating, touching and sometimes bewildered world. 

Britt Truyts soprano
Anton Klotzner tenor 
Featuring  Philippe Thuriot 
Transcriptions  Stefan Van Puymbroeck 
Musicians  BiancoNero 
Direction  Guy Vandromme 
Production One-Off & BiancoNero 

Partners
Klankenstroom 2013 Diest
Kultuurmarkt 2013 Antwerpen